1
25.10.2023
SUMITOMO milling concepts
A technical edge for your success.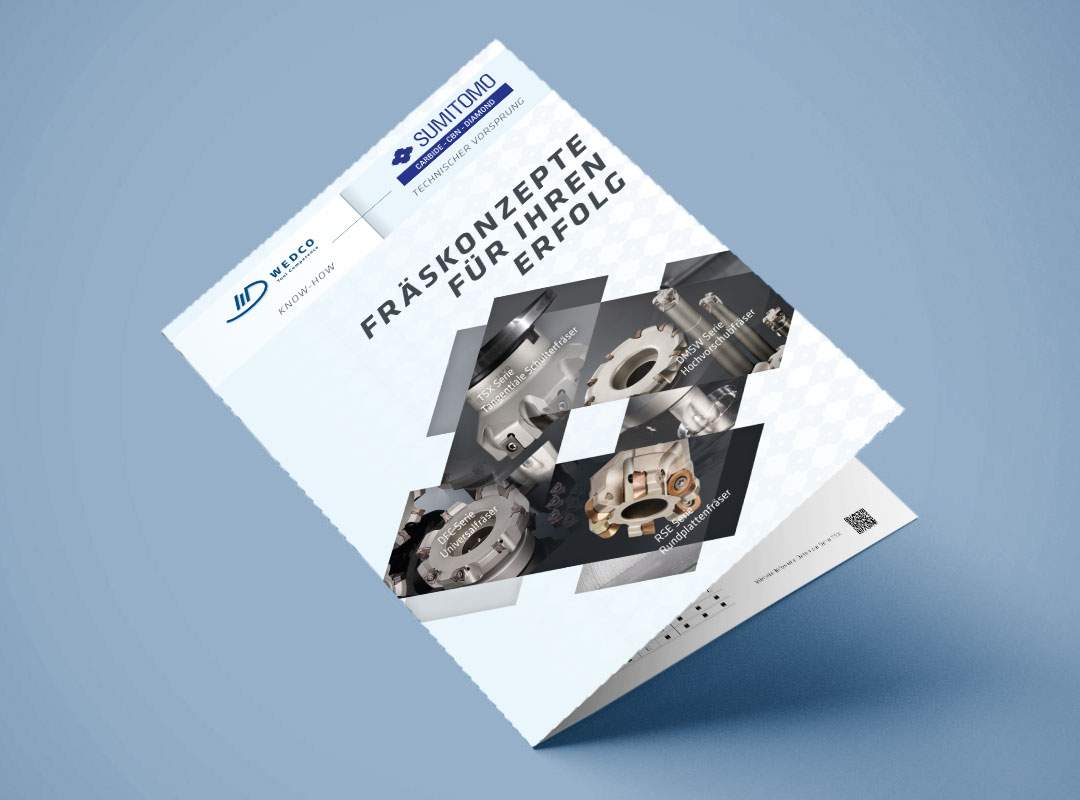 The WEDCO plus for your success: Fast & intuitive to the perfect process.
From SUMITOMO comes the tool, from WEDCO the know-how!
The new brochure "SUMITOMO milling concepts for your success"
Milling concepts from SUMITOMO
In milling, the combination of strategy, milling tool and cutting material is the decisive factor in achieving optimum effectiveness and efficiency. SUMITOMO covers all important application areas with its wide range of milling cutters and cutting materials.
From SUMITOMO the technical lead, from WEDCO the know-how!
SUMITOMO is a global leader in cutting materials, chipbreakers and coating technologies. Around 3,000 employees work in the cutting tools sector alone. SUMITOMO products are used worldwide where quality and precision count.
WEDCO has been a trading partner for SUMITOMO products since its foundation in 1991 and is responsible for exclusive distribution in Austria. A successful partnership of more than 30 years that proves: you can rely on WEDCO and SUMITOMO. With the know-how of our application engineers and our intensive on-site customer support, we help you find the right tool and optimal use for every application. That is SUMITOMO's technical lead, that is WEDCO's technological know-how.
TSX
High-efficient shoulder milling cutter
The SumiDual-Mill TSX series tools are highly efficient shoulder milling cutters with robust, tangential inserts.
Tough and sharp cutting edge
Very accurate and excellent surface finish
2 different insert size series and 3 chip breaker
Cutting materials for highest productivity in all ISO-application areas
Optimized cutting edge geometry

The cutting edge geometries, optimised in terms of sharpness and cutting ability, significantly reduce the cutting forces. Thanks to a newly developed sintering technology and the peripheral grinding of the cutting inserts, very precise shoulders with excellent surface qualities can be produced.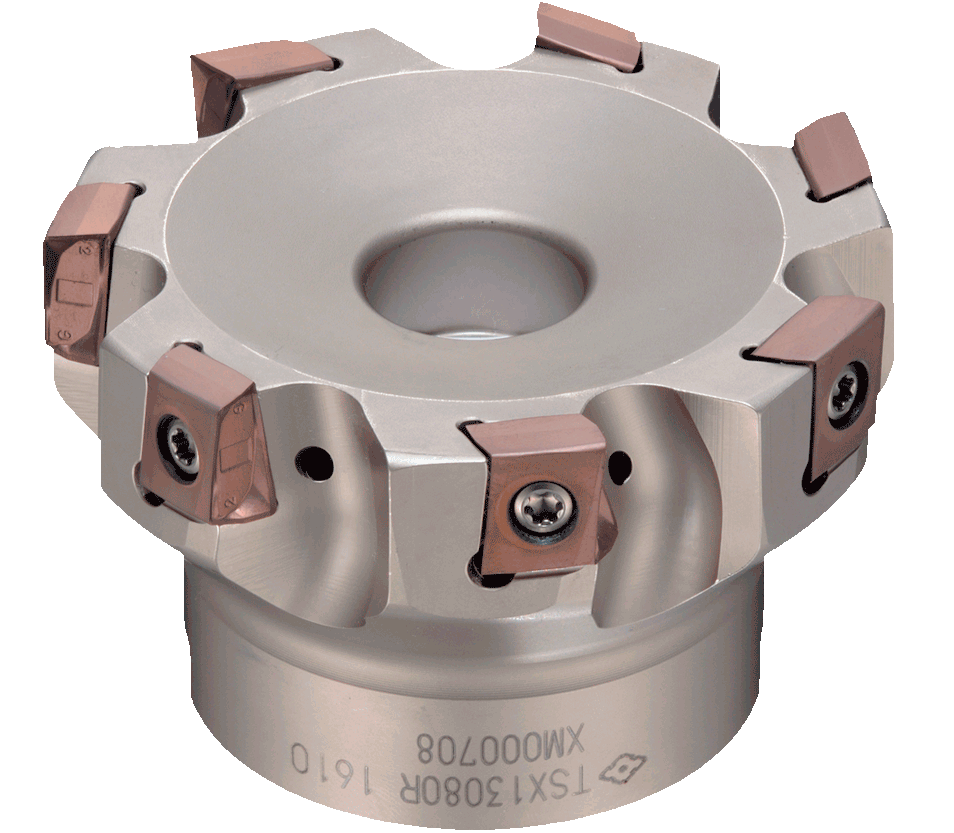 RSE
HIgh-efficient, tough radius milling cutter
The tools of the SEC-wave radius mill-series RSE are tough cutters for high-efficiency machining of stainless steel and exotic alloy.
High-efficiency, high-rigidity radius cutter
Lineup of ground type and M class inserts
Uses new grades for exotic alloy machining
Cutter body can be shared by optimizing the locating surface design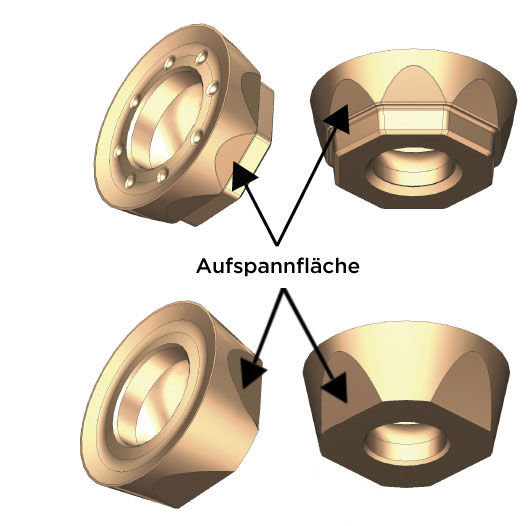 Cutter body can be shared by optimizing the locating surface design

4-sided ground-type inserts and 8-sided M-class can be used on the same cutter body.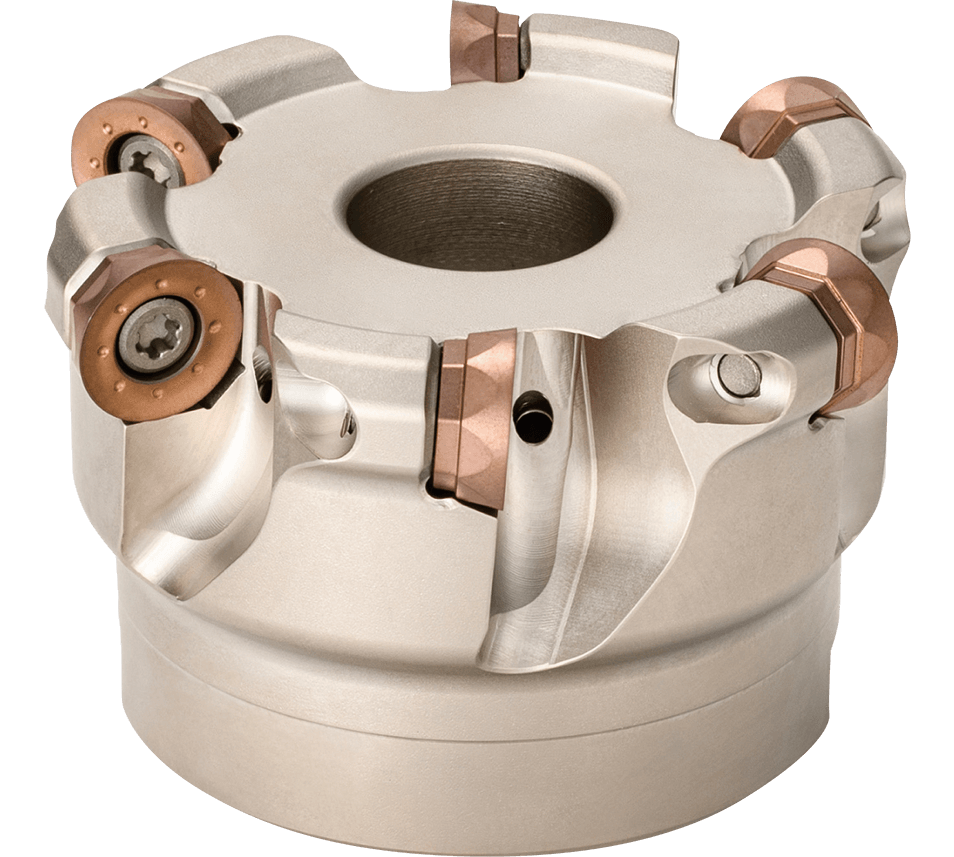 DMSW
High-productivity high-feed cutter for rough milling
High productivity thanks to an ultra-high metal removal rate as well as high economic efficiency, due to the stable double sided inserts with 6 cutting edges.
The arc-shaped cutting edge reduces the cutting force to a minimum
Even at high feed rates of 2,0 mm/t or more, a reasonable surface finish can be attained
High-efficiency machining at maximum feed rate per tooth of 3,5 mm/t is possible
The small approach angle (15°) directs most of cutting force in the axial direction and reduces the radial forces
High efficiency can be achieved by suppressing chatter in even long tool overhang machining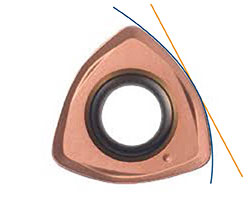 Complex arc shape

A small chip cross-section due to a small approach angle enables high feed rates per tooth of up to 3,5mm/t.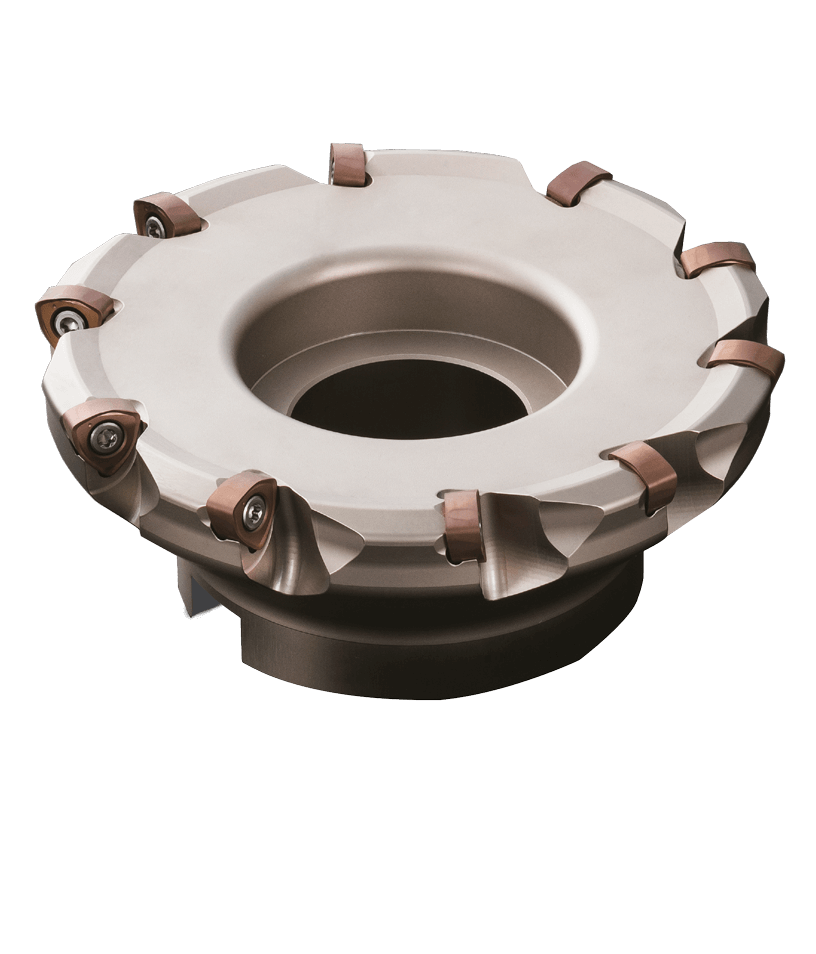 DFC
Highly efficient economical universal milling cutter
The SumiDual Mill DFC Type is a high-efficient shoulder milling cutter with double-sided 3-cornered inserts.
Stable and reliable machining
Cutter body as shank and shell type available
Standard / Medium / Fine pitch
Wide milling cutter range with diameter from Ø 25mm to 160mm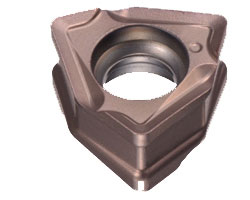 New GS chipbreaker for shoulder milling
Controlled chip evacuation
Avoids chip clamping
Improved surface quality