1
Services
As experts with decades of experience, we are always by your side. Whether it´s about optimizing a production process, developing a new tooling concept, assisting in problematic situations or regrinding used tools in original quality. We are beside you through every step to help you in reducing time, effort and money.
REGRINDING SERVICE
One of our main service offers is the regrinding of used tools, in combination with the accurate coating, in less time. This service allows the highest possible efficiency and the least amount of disruption to your production processes. The process is carried out according to your grinding instructions, on state of the art 5-axis CNC machines. The re-grinded tools will be treated with the same care as new products. From regrinding, to coating, to quality checks.
Easy and fast!

1. Collection of worn tools at the customers site by our pick-up service
2. Entering of the grinding order into our order processing system by barcode
3. Order confirmation by email
4. Regrinding on state of the art 5-axis CNC machines
5. Recoating with the original quality
6. Same quality tests and measurement checks as for new products
7. Labeling
8. Delivery to the customer at defined time intervals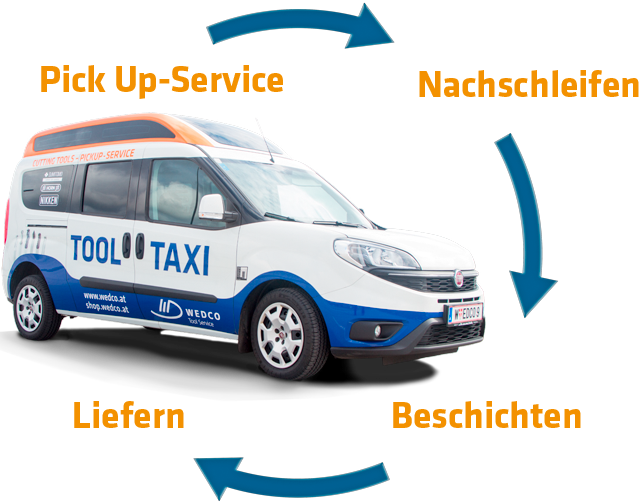 PICK UP-SERVICE
Our free pick-up service is available throughout Austria and Hungary. It includes personal advice, order recording and collection of worn tools for regrinding and recoating. The tool taxi brings them to the Wedco Tool Competence Center as quickly as possible and delivers them with short delivery times.
REGRINDING

After being worn down, many solid carbide tools have by no means reached the end of their tool life. They can be regrinded up to 3 times to fully exploit their capability for perfect efficiency. The original geometries are regrinded on original production machines. Tools, reconditioned by our 100% original grinding reach nearly 100% of their primary service life.
COATING

Our tools come with exactly the coating most suitable for your application. We only work with long-term partners with convincing quality and professionalism. Thus, it´s assured that the regrinded tools will have the same coating as for initial delivery.
On request, we can provide you with measurement protocols as proof of the high-quality standards of our tool production and reconditioning service. Our high-precision measuring machines perform a wide range of measured values, such as: diameter, concentricity, corner radii, step lengths, cone and chamfer angles, rake angles, clearance angles and chamfer widths on the forehead and circumference as well as contours of all kinds in tolerance band adjustment. All relevant data are listed in the measurement report and can be sent electronically or by printout.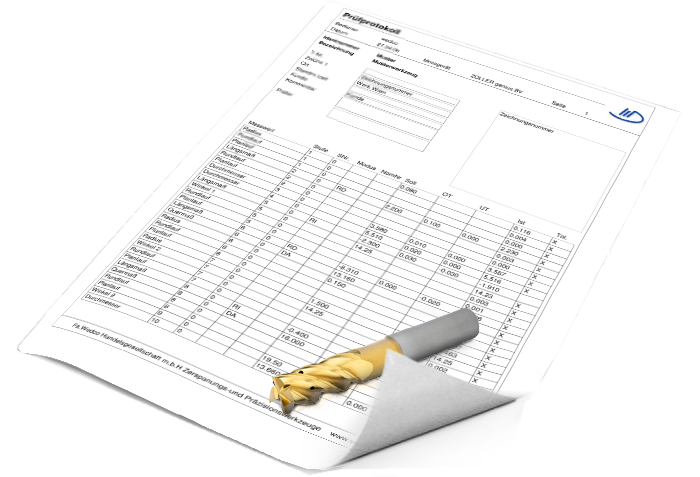 Tool Manager
The tool dispensing system from WEDCO – the WEDCO Tool Manager allows direct tool distribution at the place of use, at any time and without any administrative effort. The automated tool output allows absolute cost control and transparency about tool consumption. It reduces operating costs and thus relieves the entire tool management. Its operation is straightforward and it is also linked to your internal network for data access is at any time.
Everything from one source: We deliver the Tool Manager and ensure proper installation and set-up as well as the training of your employees and system managers. We also provide software service and adequate maintenance contracts. WEDCO Tool Competence advises you in all details up to the proof of profitability.