1
INCREASE THE POTENTIAL OF

 YOUR TOOLS!
The WEDCO 100% regrinding service – so it pays to reprocess your tools.
Sooner or later, every user, purchaser or production manager is faced with the question: throw away (better: recycle) worn tools, or have them reconditioned? Does it pay off compared to buying new or not? And how much effort does it mean for me (packaging, shipping…)? It's a good thing that the WEDCO 100% regrinding service answers these questions quickly and reliably.
Regrinding of cutting tools offers a lot of potential to save costs. Nevertheless, this possibility is not used nearly as often as it could be. Many rumours are circulating in internet forums, but it can be quite simple: Ask the professional and you are sure to make the right decision.
---
The WEDCO 100% regrinding service – so it certainly pays to reprocess your tools.
---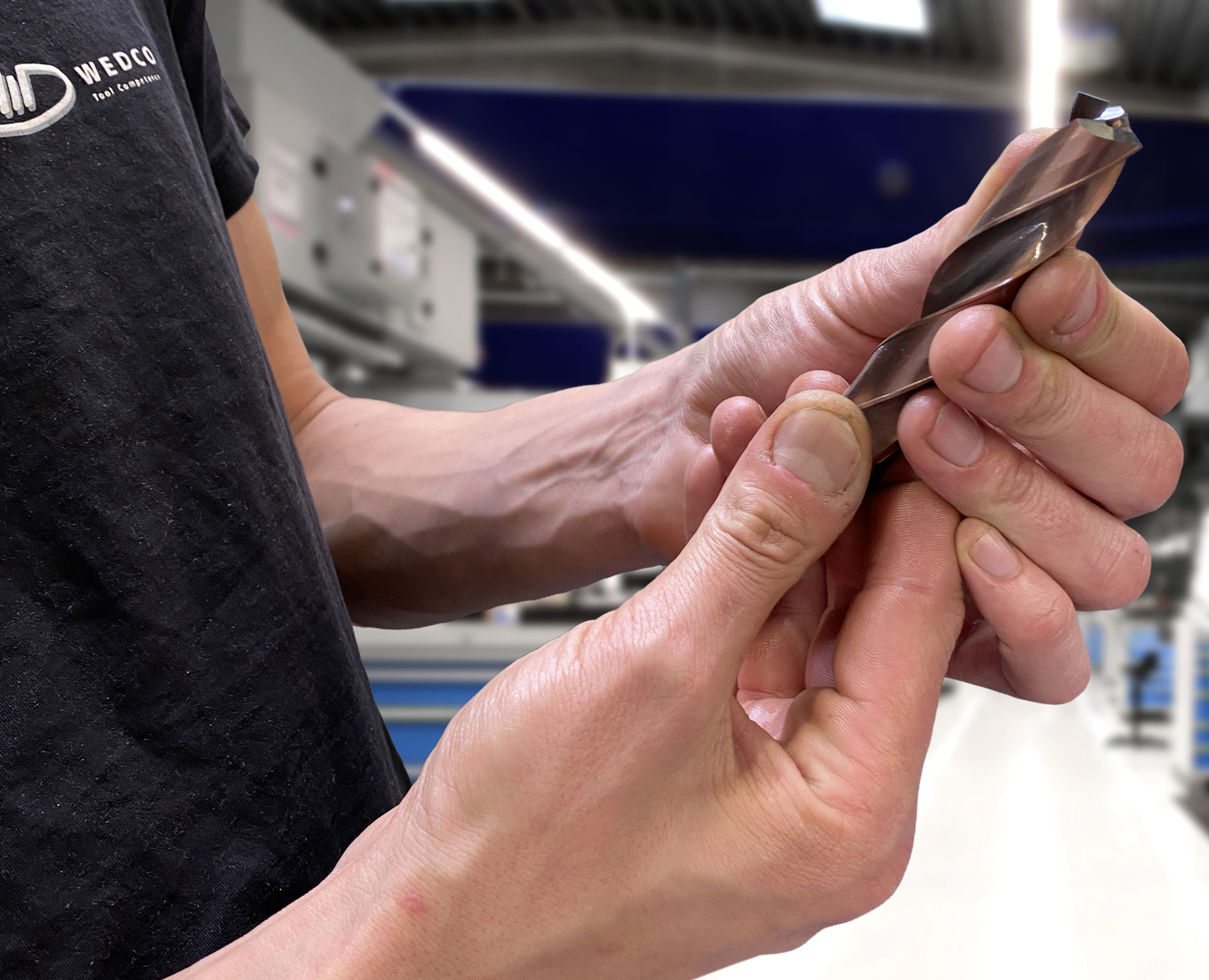 We advise you competently and inform you in advance about the costs. Thus you get a clear basis for deciding whether the respective tool should be reconditioned or not. Because at the end of the day, it's the bottom line that counts. An enquiry to our professionals is therefore always a gain and more informative than any internet forum.
WEDCO is a pioneer when it comes to regrinding cutting tools. After all, this has been one of the central services of our company since its foundation. That's why you can rely on us to ensure that every regrinding job pays off 100% for you.
100% Price guarantee: We inform you exactly about the costs of your request, so you have the quick and accurate price comparison to the new purchase and avoid the risk of unprofitable regrinding.
100% Quality: At WEDCO, your tools are reground on the same machining centres that are used in new production, with the same geometries and, if desired, with the same coating from the same coating plant..
100% Service: Our Tool Taxi (in Austria and Hungary) collects the tools from you and delivers them again after the service, free of charge. We also provide you with the packaging.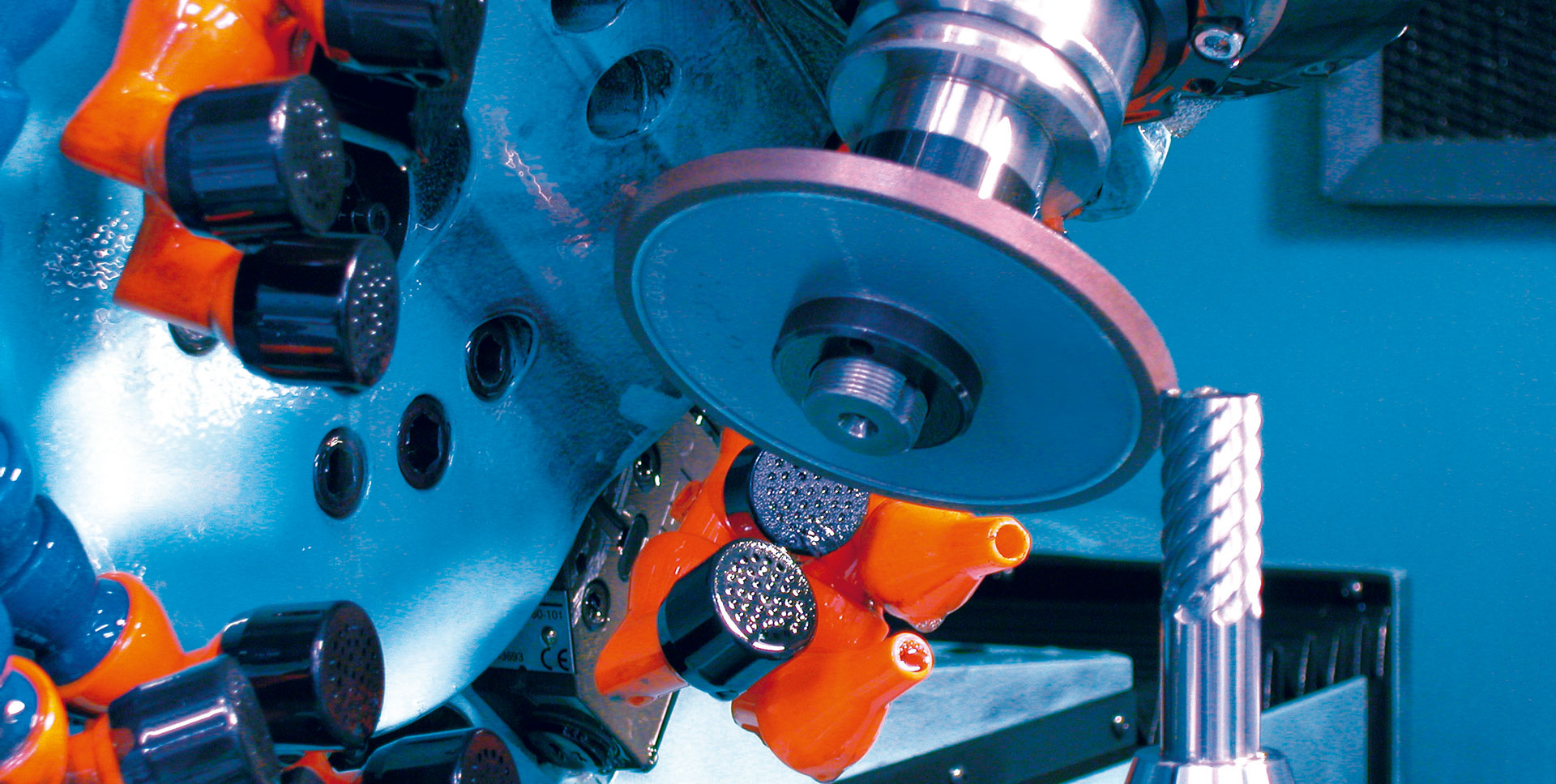 100% quality: At WEDCO, your tools are reground on the same machining centres that are used in new production.
CAN A WORN MACHINING TOOL EVER PERFORM AS WELL AS A NEW ONE?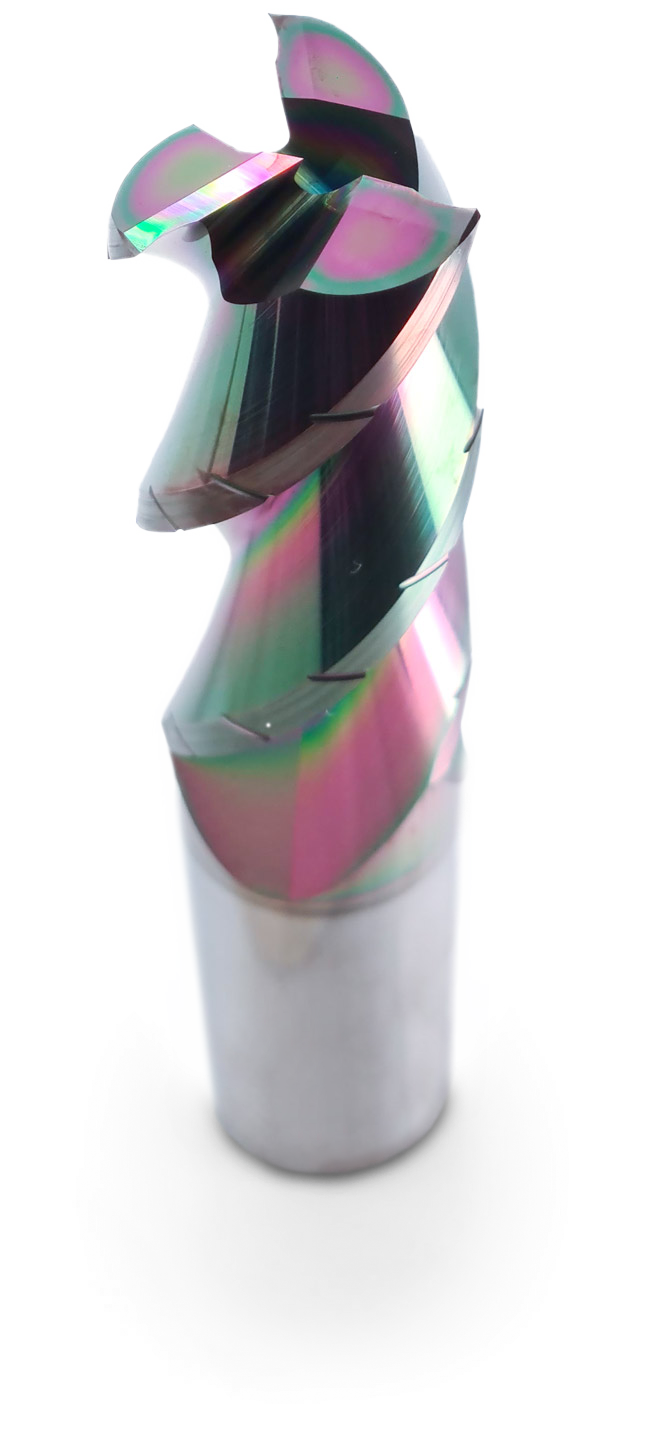 Investing in a new tool as soon as you notice wear is expensive, especially in professional use – and with high-quality solid carbide tools it is usually not necessary.
---
The material quality does not change even after heavy use, only the cutting edges have to be renewed to give the tool its full performance again.
---
The quality of the cutting material does not change during use, even the tool core is usually intact. Therefore, it is simply the cutting edges that need to be re-sharpened and the coating that gets reapplied. A tool remanufactured at WEDCO gets back almost 100% of its original service life, as well as performance and precision at the level of a new tool. The cost of such a service for professional tools is only a fraction of the purchase price of a new tool. In principle, almost all tools can be reconditioned, but it pays off especially with higher-quality tools. A price quotation gives you certainty and security.
DOES THE REGRINDING SERVICE PAY OFF FOR ME?
This question can be answered simply: We calculate it for you – just ask us!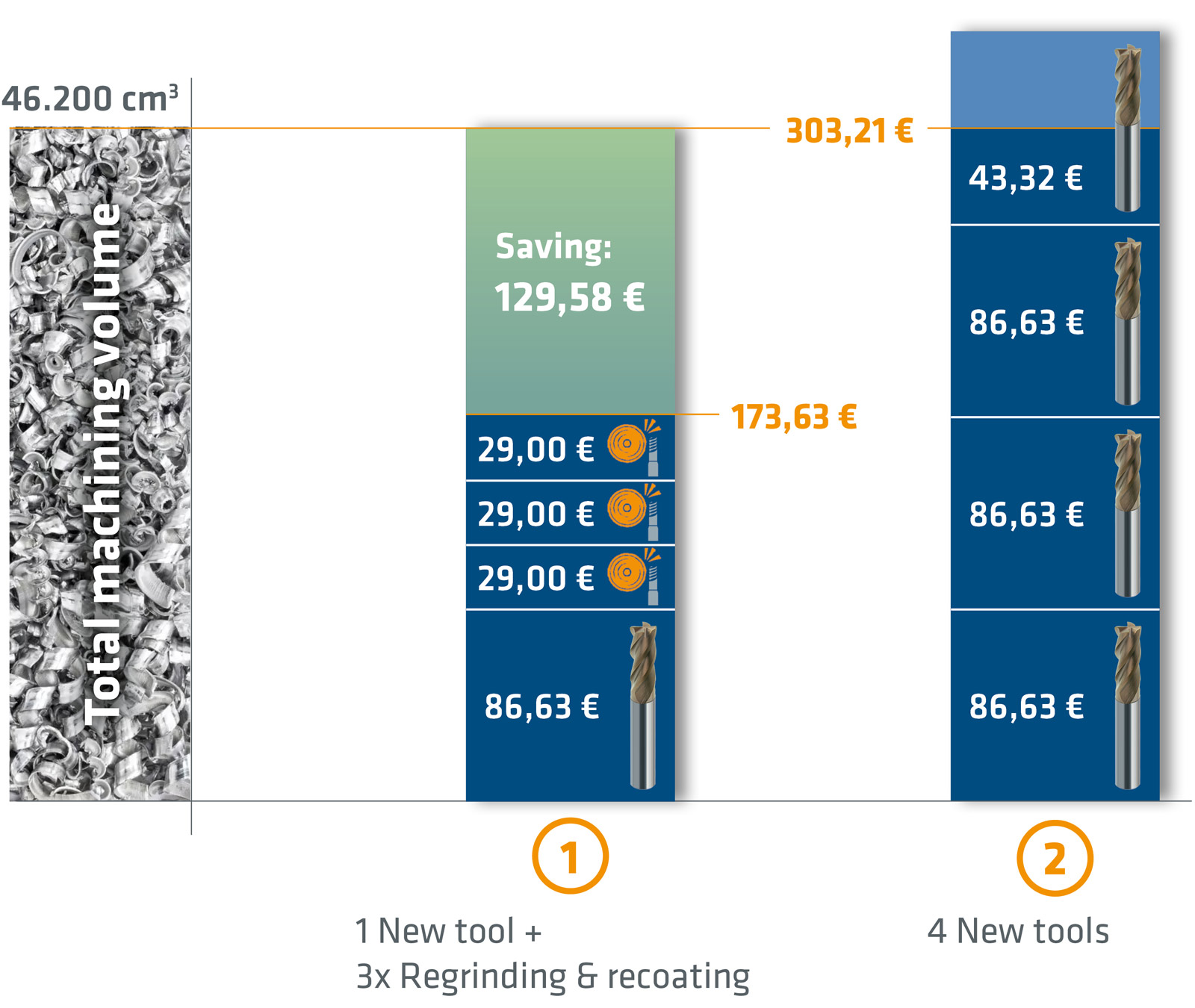 Illustration
Comparison of reconditioning vs. buying a new tool using the example of our end mill FLWX084 12004 under realistic conditions. For the calculation, we have used the current list prices for tools and service (circumference and face grinding, coating). We have assumed three times reprocessing.
---
Parameters
Tool: FLWX084 12004
Ø: 12 mm (Diameter)
Z: 4 (Number of teeth)
ap: 20 mm (Cutting depth)
ae: 4 mm (Arbeitseingriff) 
Vc: 130 m/min (Cutting speed 
fz: 0,1 mm (Feed/tooth)
 1 new tool + 3x regrinding

173,63€
The tool was reground 3 times and recoated. Overall, the tool thus achieves a total machining volume of approx. 46.200 cm³.
Machining volume:
New tool: 13.200 cm³
after 1st regrinding: 11.000 cm³
after 2nd regrinding: 11.000 cm³
after 3rd regrinding: 11.000 cm³
Total machining volume: 46.200 cm³
 3,5 New tools

303,21€
In order to compare the costs objectively, the same machining volume of 46,200 cm³ was used. This requires the use of 3.5 new tools.
Machining volume:
1st New tool: 13.200 cm³
2nd New tool: 13.200 cm³
3rd New tool: 13.200 cm³
4th New tool: 6.600 cm³ (after half of the service life)
Total machining volume: 46.200 cm³
Result:
In the case of the FLWX 084 12004, this means a cost saving of ≈130€ for just one tool. Depending on the tool, the cost ratio can be even more significant in the direction of remanufacturing. To be on the safe side, our enquiry form for regrinding service and coating will help you.
ASK FOR OUR OFFER FOR YOUR TOOL HERE >
HOW DOES A REGRINDING SERVICE WORK?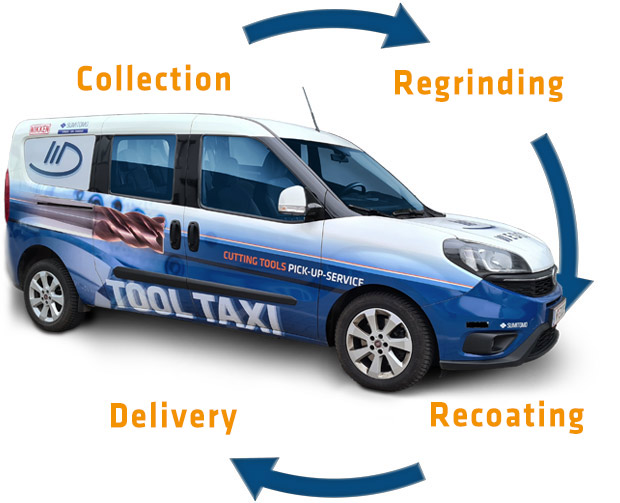 After you have informed yourself about the prices in writing or by telephone, you give us the collection order
Our Pick Up-service collects the worn down mills and drills to be reconditioned from you free of charge
We record the regrinding order in the order processing system by barcode, you receive an order confirmation by e-mail
Your tools are reground on state-of-the-art 5-axis CNC machines
At our coating professional, the tools receive a new coating in original quality
For quality assurance, the reprocessed tools are checked at the measuring stations
Marking and labelling
The tools are delivered to you again at the agreed time